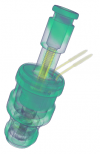 3D Computed Tomography X-ray Scanning Services
3D Computed Tomography (CT) is the most advanced x-ray inspection technique available in the industry. CT gives you enhanced capabilities with versatility and product information that you cannot receive anywhere else. CT virtually eliminates evaluation error and gives you a visual understanding of your product that you may have never seen before.
Computed Tomography X-Ray inspection is a completely non-destructive and non-contact method for obtaining internal and external information on just about any object ranging from microns to feet in size!
Industrial Computed Tomography Process
Industrial CT uses a series of 2-dimensional images taken at specific intervals around the entire sample. An industrial CT system uses three principal components: an X-ray Tube, an X-ray Detector, and a rotational stage. Everything is enclosed in a radiation shielding Steel/Lead/Steel cabinet.  In addition to the cabinet, a computer workstation, consisting of a 2D X-ray console for acquisition, and a 3D CT workstation for volume reconstruction are required.
Acquisition
A high-end CT scan consists of taking several 2D X-ray images around the object, preferably covering 360 degrees (complete rotation). CT systems typically acquire between 360 images and 3600 images depending on the final desired resolution. Each image is between 3 to 10 Megapixels and is also averaged and filtered to reduce noise.
3D Industrial Computed Tomography X-ray Inspection scanning is great for:
Failure Analysis
Assembly Verification
Advanced Material Analysis
Weld Quality Analysis
Plastic Welding/Bonding Quality Verification
Research and Development (R&D)
Product Quality Compliance/Screening
Product Contamination
Internal and External Measurements
Food Products Inspection
Museum Artefacts Digitisation
Aluminium and Steel Castings Inspection
Medical and Pharmaceutical Device Inspection
Electronic Component Inspection
3D Metrology
Reverse Engineering
Density Analysis