Ultimaker 2 GO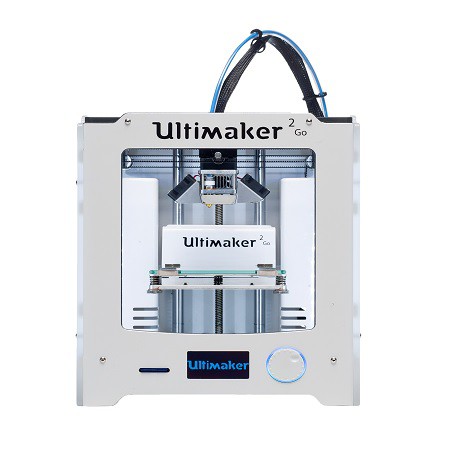 Small in size, but big in 3D printing abilities and reliability, the Ultimaker 2 Go is one of the most powerful little printers around. And with a compact design, it's great for makers on the go, or those just getting started in the 3D world.
The Ultimaker 2 Go 3D Printer is the smaller version of the Ultimaker 2 range. The Ultimaker 2 Go has a smaller size and footprint which makes it the perfect for High Quality 3D Prints on your desk or work space. Ideal for 3D Printing in Education, Product Decision and Prototyping.
The Ultimaker 3D Printer range is easy to use, open source and has an exceptional 3D Print resolution of 20 microns. The Ultimaker 2+ can use 3mm ABS, PLA and Speciality 3D Printing Filament and has a heated print bed to help with adhesion and improves the 3D Print process.
3D Printer Dimensions: 25 (L) x 25 (W) x 28 (H) cm
3D Printing Technology: Fused 3D Printing Filament Fabrication
Weight: 11KG
Connectivity: SD-Card / WIFI Ready
Ultimaker 2 Go 3D Printer utilises The Cura Software Package which is free to download from the Ultimaker website.
The software – like the Ultimaker 3D Printers has been designed with ease of use in mind.  Once the 3D Print drivers have been installed correctly you will be able to initiate a software connection and get started on your first 3D Print.
OSs: Windows XP, Vista 7 , 8,  Ubuntu Linux (12.04+)  & MAC OS X (10.6 64 bit +)
File Input: STL, OBI, DAE, AMF