Ultimaker 2+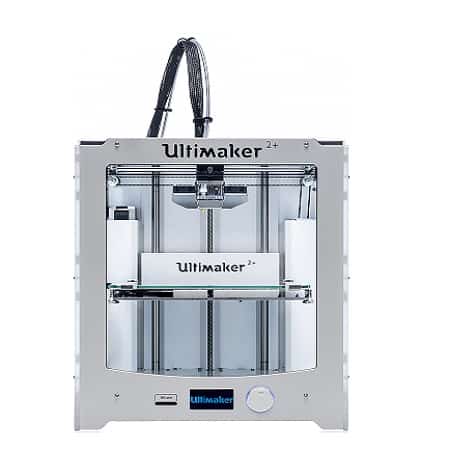 Ultimaker 2+
The Ultimaker 2 + 3D Printer is the newest and largest version of the Ultimaker 2. The Ultimaker 2+ is larger which makes it perfect for scaling objects and 3D Printing them in outstanding quality.
The Ultimaker 3D Printer range is easy to use, open source and has an exceptional 3D Print resolution of 20 microns. The Ultimaker 2 + can use 3mm ABS, PLA and Speciality 3D Printing Filament and has a heated print bed to help with adhesion and improves the 3D Print process.
Printer
Ultimaker 2+  3D Printer
Single Extrusion 3D Printing
Dual Extrusion Upgrade coming soon
Build Volume:  22.3 (L) x 22.3 (W) x 20.5 (H) cm
Nozzle Temperature: 180°C – 260°C
Heated Build Plate Temperature: 50°C – 100°C
3D Print Layer Resolution 
Ultra High: 20 micron
High: 60 micron
Medium: 100 micron
Low: 200 micron
0.25 mm nozzle: 150 to 60 micron
0.40 mm nozzle: 200 to 20 micron
0.60 mm nozzle: 400 to 20 micron
0.80 mm nozzle: 600 to 20 micron
Ultimaker 2 + Features
Geared Feeder – Improved feeder allows you to easily swap filament and choose the correct pressure for your material.
Swappable Nozzle – The altered printhead allows you to switch between different diameter nozzles (0.25, 0.4, 0.6, 0.8mm) for fine quality or quicker 3D Prints.
Optimised Airflow – The new fancaps allows airflow is channeled directly below the nozzle and equally on both sides. Allowing you to achieve smoother 3D Prints.
Ultimaker 2+ 3D Printer utilises The Cura Software Package which is free to download from the Ultimaker website.
The software – like Ultimaker 3D Printers – has been designed with ease of use in mind.  Once the 3D Print drivers have been installed correctly you will be able to initiate a software connection and get started on your first 3D Print.
OSs: Windows XP, Vista 7 , 8,  Ubuntu Linux (12.04+)  & MA