ProJet® 2500 Series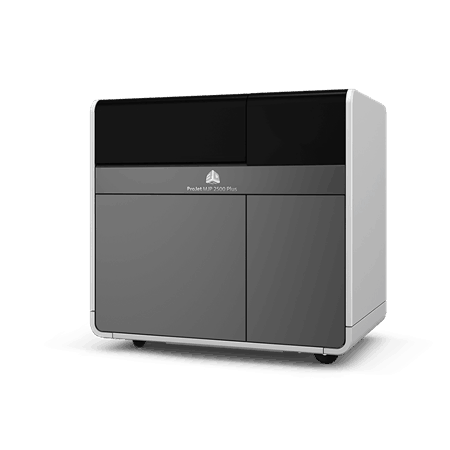 The ProJet® MJP 2500 Series is the latest in 3D Systems' MultiJet Printing (MJP) line of 3D printers, designed to combine professional grade 3D printing capabilities with an affordable price, an office-friendly footprint and easy part processing.
Professional parts quality
Print precision parts right in your office, with true-to-CAD quality and accuracy, superior edge fidelity and surface finish, in plastic and elastomeric materials for true functional testing. Each printer in the series is compatible with robust and versatile VisiJet® M2 materials in rigid white and black and new durable white and black VisiJet M2R* plastics. The ProJet MJP 2500 Plus offers additional material capability with rigid clear and flexible elastomeric black and elastomeric natural with outstanding elongation and full elastic recovery.
* Replaces former M2 RWT, RBK and RCL materials.
Speed
Step up from desktop 3D printing to 24/7 usability and get more parts sooner to design better products faster. The ProJet MJP 2500 Series' industrial print head and optimized print parameters deliver up to 3 times faster print speeds than similar class printers for better efficiencies and higher productivity.
Simplicity
Driven by the powerful 3D Sprint™ print client software, the ProJet MJP 2500 printers efficiently deliver high fidelity functional parts, in your office environment. The new MJP EasyClean System is an incredibly simple way to remove supports from MJP parts in under 30 minutes, without manual labour. Faster and cleaner batch post-processing simplifies the workflow and allows for same-day design verification, with your most intricate details preserved.
APPLICATIONS:
Concept modelling
Communication, sales and marketing model
Rapid design iteration for rigid plastic or elastomeric products
Validation prototyping
Design verification and testing
Assemblies' validation, including snap-fit
Water-tightness applications, fluid flow visualization
Functional testing of plastic and elastomeric products
Educational functional prototyping
FEATURES:
Using MultiJet Printing technology
Max build envelope capacity (WxDxH): 11.6 x 8.3 x 5.6 in (295 x 211 x 142 mm)
Choose the ProJet MJP 2500 or 2500 Plus to print in durable white and black plastic
Choose the ProJet MJP 2500 Plus to add rigid clear plastic, flexible elastomeric black and elastomeric natural materials capabilities
Streamlined design-to-print workflow with the new 3D Sprint™ software capabilities
Fast and easy post-processing with the MJP EasyClean System (optional)
BENEFITS:
Get more parts faster with an effective file-to-finished-part process
High-fidelity parts you can rely on
Exceptional sharp edges and fine features definition
Greater geometric freedom with effective support removal
Choice of plastic and elastomeric materials engineered for performance
Designed for your office environment
Low Total Cost of Ownership (TCO)