M-Files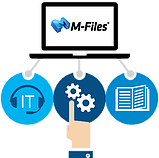 What is M-Files?
M-Files is one of the most flexible document management systems available.
Document volume is constantly increasing, and valuable time is wasted searching for and managing documents. And many companies need access to their documents when outside the office, without compromising data security. M-Files addresses all of these issues.
Our customers typically use M-Files for compliance, engineering change orders and management of manufacturing information.
M-Files (ECM) with ERP, MRP and CRM
ECM = Enterprise Content management. ERP = Enterprise Resource Planning
MRP = Material Resource Planning. CRM = Customer Relationship Management
Integration between ECM and core business systems allows organisations to establish contextual relevance among their information assets. This leads to better decision making!
Very few business have this
Almost 60% of organisations do not have linkages between ERP, other financial systems and ECM. (Source: AIIM, ECM Decisions: The Driving Force).
Only 13% of organizations have linkages between CRM and ECM. (Source: AIIM Industry Watch-Connecting and Optimizing SharePoint)
M-Files is the link or the glue that allows organisations to share the data between systems.
M-Files has readymade plug ins for Salesforce CRM, Dynamics CRM and SAP and many ERP/ MRP systems.
To date most of our engineering manufacturing M-Files customers already have CRM /MRP. M-Files has been linked so all documents can be accessed and used facilitating quality management with traceability on all documents