ZW3D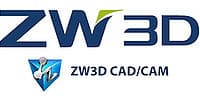 ZW3D, ALL-IN-ONE, AFFORDABLE CAD/CAM
​
ZW3D, an integrated CAD/CAM solution designed for the complete product development process, features the fastest kernel for Solid-surface Hybrid Modeling, non-solid mold parting and smart CNC Machining tactics from 2 axis to 5 axis. It brings customers endless benefits such as reduced costs, optimized design workflow and improved efficiency.
A world renowned CAD/CAM solutions provider. With a reputation as a committed and reliable provider of CAD/CAM software to the AEC and MCAD industries, ZWSOFT has created design software products that have continuously satisfied the needs of 2D and 3D drafters for over a decade.
ZWSOFT has been dedicated to investing in the research and development of ZWCAD and ZW3D. Its annual R&D investment is more than 20% of the corporation's revenue, and it will keep increasing to meet the development strategy of ZWSOFT. With 20 years' experience in CAD industry, our products are proven by over 320,000 clients across 80 countries.