We've had our 3D Systems 3600 Max for a few weeks now and it just doesn't disappoint us.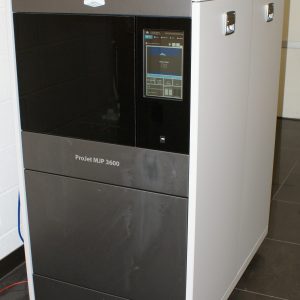 Our MJP (Multi Jet Printing) ProJet 3600 has a large build plate and amazingly high definition.
We use this 3D printer to make plastic parts in a large variety of properties, for our customers throughout Scotland. This has helped our customers to speed up their iteration cycle for design and testing.
Our MJP printer gives us the ability to create composite materials with tailored mechanical properties. We can print multiple materials and complex parts with special features like over moulding. The completed parts have a smooth finish and can achieve accuracy that is very close to SLA.
This technology allows us to remove the wax supports from tight spaces and therefore doesn't limit the range of geometrical shapes that we can print. The wax supports just melt away – even from very small spaces.
Our service and printer allows us to achieve fast turnaround so that designs could be verified in the minutest detail quickly. Our customers can also use our 3D printer to make shapes that would not be possible with moulds.
With biocompatible materials that have passed USP Class VI testing, you can print parts for medical devices and more.
We use this printer extensively to make functional prototypes, but also use it to produce rapid tooling along with many other applications all with sharp defined edges and corners.
We have used this machine to produce parts straight out of design and allowed our customers to find and fix problems early before they commit to expensive tooling or check interactions and clearances between components to ensure there are no problems when it comes to assembly.